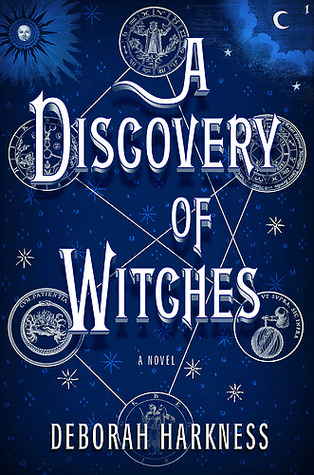 Hello lovelies! Welcome to the first discussion post to A Discovery of Witches Readalong! If you don't know, I'm hosting a readalong for the All Souls Trilogy in preparation for the publication of the final book – The Book of Life. We're starting with this first book and slowly making our way until the publication date and then continuing with the last book. Feel free to join in at any time! If you'd like to see a schedule for this book you can find that here. Below are the discussion questions for chapters 1-9. Feel free to answer in a post or in the comments below. Don't read if you haven't read through the allotted chapters!
What are your impressions of Diana and Matthew?
I find Diana really interesting. Mostly the fact that she refuses to use her magic. I understand her reasoning but at the same time she's magical! Why not use magic?? Or at least use it for mundane things like lighting candles or getting a book off the shelf. I love her personality. I love how independent and confrontational she can be – especially with Matthew. I find Matthew annoying, somewhat. I find him a bit too arrogant (at least for now, I vaguely remember him getting a bit better). I love seeing the two of them together and I find their banter entertaining. I really like Matthew and Hamish together. I like that Hamish can unravel Matthew and get down to the bottom of what he is really thinking.
Why do you think Ashmole's manuscript is so important?
I think it is like the Daemon said where it holds the secret to where they all came from. I also think it may hold secrets to potential powers that the different 'species' haven't figured out yet. Maybe they show the secret to Vampires being truly immortal or how Daemons can control their insanity. Either way it has to have some powerful secret for someone (whoever it may be) to hide it.
What are your first impressions of the book?
I love it. I love the way Harkness writes and that you just get so absorbed into the story. I did forget how long it takes me to read this book though because when I first read it, I was reading on my Kindle so it felt like I was making a big progress (until I looked at the percentage and realize I hadn't made a single dent). I really love it even though it takes a while. It's just good writing and fun characters and I love how they interact. I look forward to reading more.
What do you think happened to Diana's parents?
Well we know they went to Africa and never came back. My guess is they were looking for the manuscript and maybe witches or vampires (or maybe both) didn't want them to find it, because they're already powerful enough, and so killed them to prevent them from ever getting it.
This novel obviously showcases witches as well as vampires, but how do you feel about Daemons being presented as well?
I love that it presents daemons as well as witches and vampires. I rarely see any books with them all together nor have I ever seen daemons explained like this. Usually we see twisted human souls come up from hell and try to kill a bunch of people or cause havoc and what not. I like that in this they aren't innately evil but rather like humans who can see the world for what it is with the way their minds work. I hope we get to learn more about daemons later one.
What do you think will happen next?
I vaguely remember a few things so I'm going to keep this blank 🙂