Hello my lovely readers,
My dear friend has informed me that her newly published ebook is now available FOR FREE on Smashwords.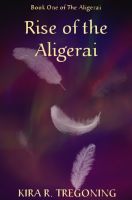 Rise of the Aligerai follows the life of Sita Newbury as she enters college. She soon learns that her simple, yet magical, life is anything but simple. With the help of her friends and roommates, she is charged to save the world of Corá and Earth from soul-stealing occultists. Can she save both worlds or will the destruction of billions of lives be on her shoulders?
You can find the book here and she asks that you write reviews on Goodreads, Amazon and Smashwords. Please and thank you! 🙂